Many fans of Gospel music understand the excitement of rushing home from church on a Sunday afternoon just to see the Stellar Awards. Like any other major event, the viewing festivities always include enthusiastic banter about who should win what, and who everyone hopes to hear sing. And of course, there is always the joy of spotting your favorite artist or personality in the audience or on the red carpet looking amazing.
The Stellar Gospel Music Awards is the biggest night in Gospel Music, handing out the highest genre-specific accolade that a Gospel Artist can receive. This award show is to Gospel artists what the Tony Awards are for Broadway actors, or what the ESPYs are for professional athletes. Many aspiring artists can relate to standing in front of their mirror practicing their acceptance speech with a heart full of dreams and hopes that one day, the person they see on television will be them.
For 34 years, the Stellar Awards have provided a platform for Gospel Artists to be celebrated and honored by their peers and fans. It is a glorious event that is an electrifying first-hand experience, and one that is always captured wonderfully for the television broadcast. Produced by Chicago-based Central City productions, the show was taped at the Orleans Arena in Las Vegas. It will air this Sunday, April 21st, at 7 p.m. EST on BET. The show will continue to air around the country in broadcast syndication from April 27 through May 26 (check local listings).
The noticeable presence of new and young talent in the music industry is undeniable across genres. The Grammys have reconstructed their eligibility requirements to accommodate Online Streaming platforms for new and developing artists. The BET Awards and Soul Train Awards have both also made moves to accommodate more independent and new artist representation. The Stellar Awards is no different. Last year, Jonathan McReynolds introduced the emerging artist platform, and it was clear that the audience both in the arena and at home loved the segment. This year, McReynolds himself took home eight awards and performed his hit "Not Lucky, I'm Loved".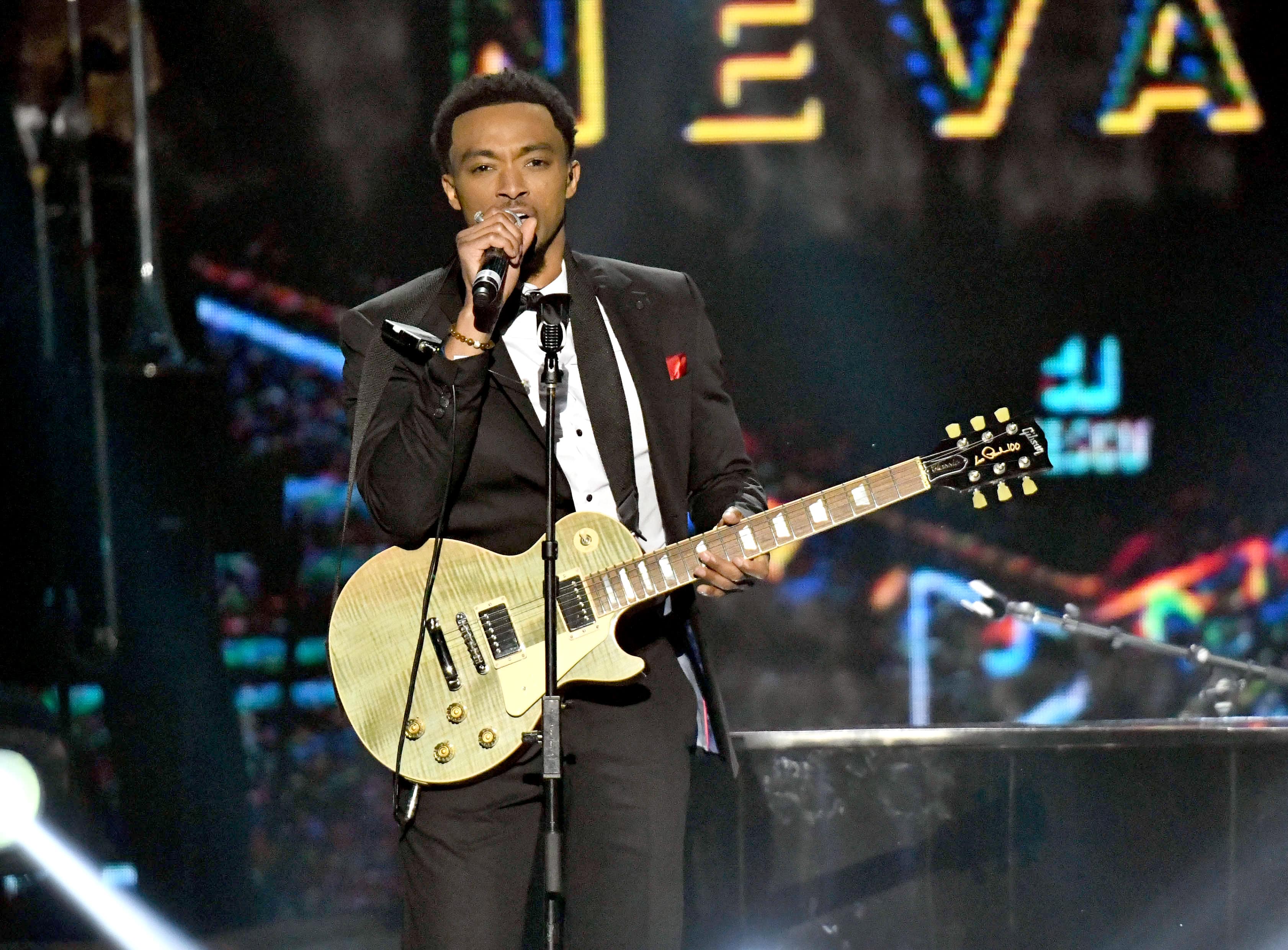 LAS VEGAS, NEVADA – MARCH 29: Jonathan McReynolds performs during the 34th annual Stellar Gospel Music Awards at the Orleans Arena on March 29, 2019 in Las Vegas, Nevada. (Photo by Earl Gibson III/Getty Images )
New artist Will McMillan performed on the emerging artist stage this year. He says that it was just a few years ago that he was watching the Stellar Awards at home, and now, at the age of 30, he is performing on the telecast.
Indeed, younger artists – the next generation of Gospel stars if you will – were in the spotlight at this year's Stellar Awards, but viewers will see some legendary favorites as well. Kelontae Gavin, who recently turned 20 years old, is an energetic and sincere singer who took to the stage alongside Phil Thompson and Maranda Curtis for a highly spirited medley. Gavin is part of the generation or artists that is helping bridge the gaps in Gospel music. Appealing to both the young and the seasoned, Kelontae delivers a unique musical experience.
Jekalyn Carr is another new generation artist who is walking in her own distinct voice and bridging the gaps of age and style. In addition to performing, she walked away with three awards: Albertina Walker Female Vocalist of the Year, Traditional Vocalist of The Year and Traditional CD of the Year.
Talented siblings The Walls Group, who announced during the weekend that they have been signed to Warryn Campbell's My Block Records, were awarded Duo/Chorus Group of the Year and Contemporary Duo/Group Chorus of the Year. With the median age of the night's winners and performers being under 30 years old, these young voices and winners are the voices of today and tomorrow, giving a reassuring statement that Gospel Music is in good hands.
We asked a few artists what advice they would give to Gospel music's next generation.
JJ Hairston and his wife and collaborator Trina Hairston said "We having been in the industry for 20 years and people are acting like we are new artists. It shows me that the first 15 years were preparation. If we came out acting like stars, God wouldn't have been able to trust us. For any up and coming artists, I would say stay true to what God has given you so when your season is here, you need to be ready for it. We are in a season of grace right now."
Singer and songwriter Deon Kipping attended the Stellar Awards to say thank you to the media and the industry for its support and prayers during his health trials. Kipping, who started out as a background singer for JJ Hairston, said his advice to up and comers is to "Learn how to serve. A lot of people are serving that want to be in the front, but when they get to the front they don't know what to do."
One veteran voice that delivered an unforgettable performance was Bishop Hezekiah Walker. He opened the show with a get-on-your-feet medley of some of his greatest hits, reminding everyone – young and old – why he is indeed the Godfather of Contemporary Choir Music.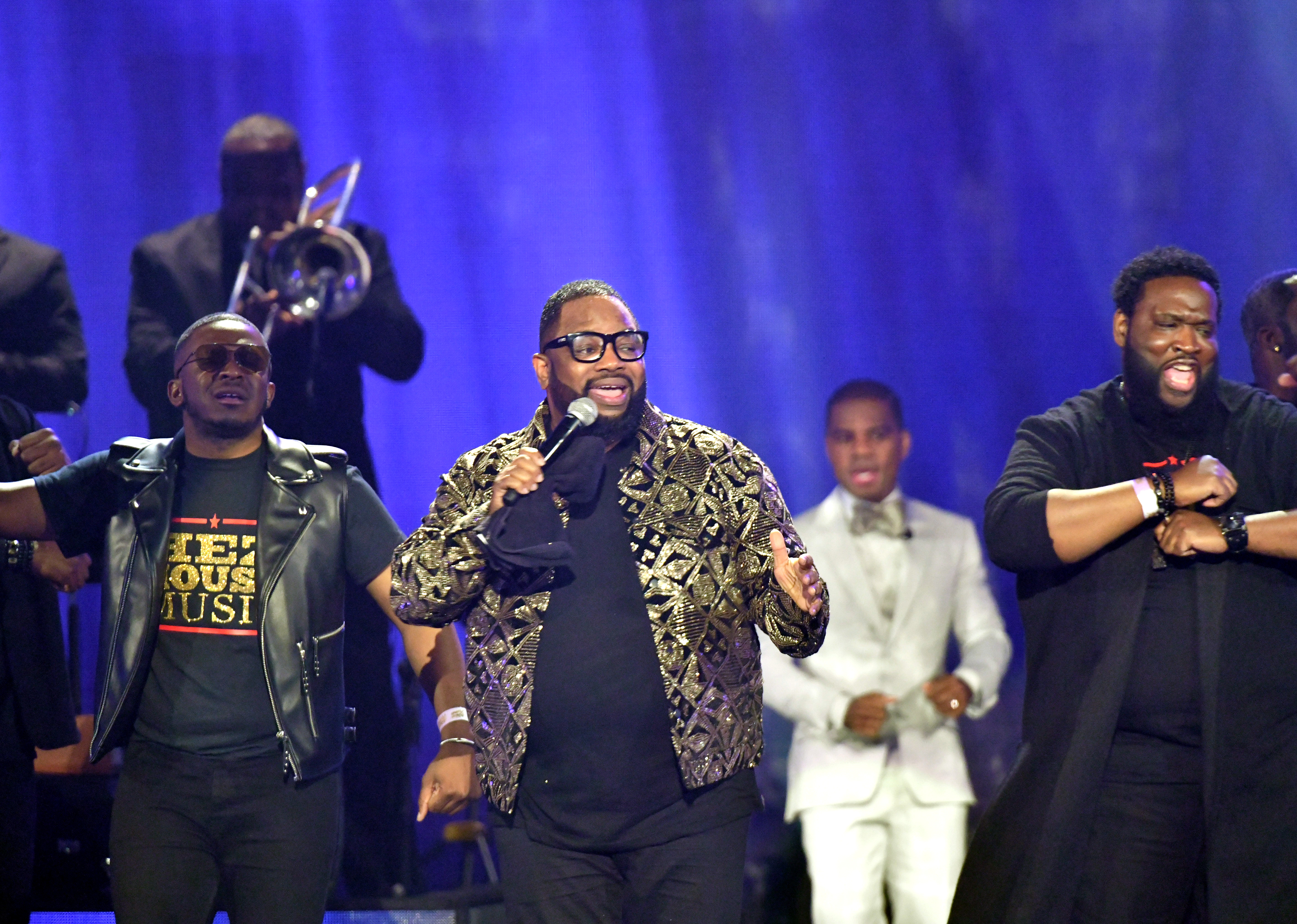 LAS VEGAS, NEVADA – MARCH 29: Hezekiah Walker performs during the 34th annual Stellar Gospel Music Awards at the Orleans Arena on March 29, 2019 in Las Vegas, Nevada. (Photo by Earl Gibson III/Getty Images )
The stand-out highlight of the evening was an emotional tribute performance by Kelly Price, Erica Campbell and Regina Belle honoring the undisputed Queen of Soul, Aretha Franklin. Family members of the late-legend, Brenda Corbett, Jordan Franklin and Kecalf Franklin, were presented with the inaugural Aretha Franklin ICON Award to give posthumous recognition of her profound impact on the Gospel music genre and unforgettable contributions.
A special award presentation was also given to honor gospel legend Delores Washington Green of The Caravans, who received the Dr. Bobby Jones Legend Award. Gospel star Yolanda Adams and Stellar Awards Founder, Chairman & CEO Don Jackson inducted James Robinson Jr. (Malaco Gospel), Jackie Patillo (Gospel Music Association) and Phil Thornton (RCA Inspiration) into the Stellar Honors Hall of Fame.
This year's sensational line-up of performances included Kirk Franklin, who also served as host, stirring the audience to their feet performing new music, as well as Brian Courtney Wilson, Koryn Hawthorne, Todd Dulaney and Charles Jenkins.