It is only April, but for Jonathan McReynolds it is pretty safe to call 2019 an epic year.
The dexterous singer/songwriter/musician who "hated singing" when he was growing up in the church, recently walked away with a staggering eight Stellar Gospel Music Awards, including Artist of the Year and Best Contemporary Male Vocalist. Prior to that, he celebrated two GRAMMY® Award nominations and he was just announced as one of the guest judges on BET's recalibrated Gospel singing show Sunday Best.
If that weren't enough, his Make More Room Tour is selling out, as McReynolds brings his relatable, authentically moving style of Gospel music to audiences in major markets around the country. The tour is notably playing mainstream venues where he is performing with a band (an amazing band at that) instead of the acoustic shows for which he is widely known.
I caught up with McReynolds during his recent tour stop at Sony Hall in New York City, where he was gracious enough to speak with me for a few minutes before he delivered one of the most well-produced, creative, high energy, worship-filled concerts that I have ever experienced. Touring is tough on artists, and McReynolds says that he adapts his health regiment to include a lot of water, and a lot of vitamin supplements. In fact, when we spoke he had just returned from getting a Myers' Cocktail and a Glutathione injection.
It is a good thing that McReynolds takes these extra measures to stay healthy while on the road; he is a force onstage. For more than an hour, McReynolds sang, jumped, interplayed with the phenomenal background singers and band, played guitar, played keys, and altogether brought the shoulder-to-shoulder crowd into a space of radically free expressions of worship. The show was flawless and well-orchestrated, yet managed an elasticity that gave it the feel of an exclusive jam session.
How important was it to play non-traditional venues? I wanted to foster breaking some new ground for this generation of Gospel music. I think that it is awesome that we have church; that's comfortable for us and a place that we can always be, but I think that our music needs to be in more environments. I think that it is strong enough, it's potent enough, it's effective enough and it just needs to put in front of the right people.  Two, my music lends itself to this atmosphere. I actually sometimes feel a little more restricted in church environments – and it's not because of me, it's because of the way that we are all kind of taught to react and express ourselves in church.  It is kind of restrained. There are some rules to it, or at least we think there are. And so, I just wanted to make sure that I took the lid off of things. I took the lid off of the way I can express myself as an artist and the way the audience can express themselves as fellow worshippers, believers and consumers of the music.
There are families here, children as young as 3 years old and adults well into their 50s. Your music obviously appeals to multiple generations. How does that make you feel? I'm honored. I think that artists, we get who we are. We attract who we are…so maybe there is a 3-year-old inside of me, and also a 55-year-old inside of me. It all comes out in my music and it grabs them. Those elements that speak to them grab them.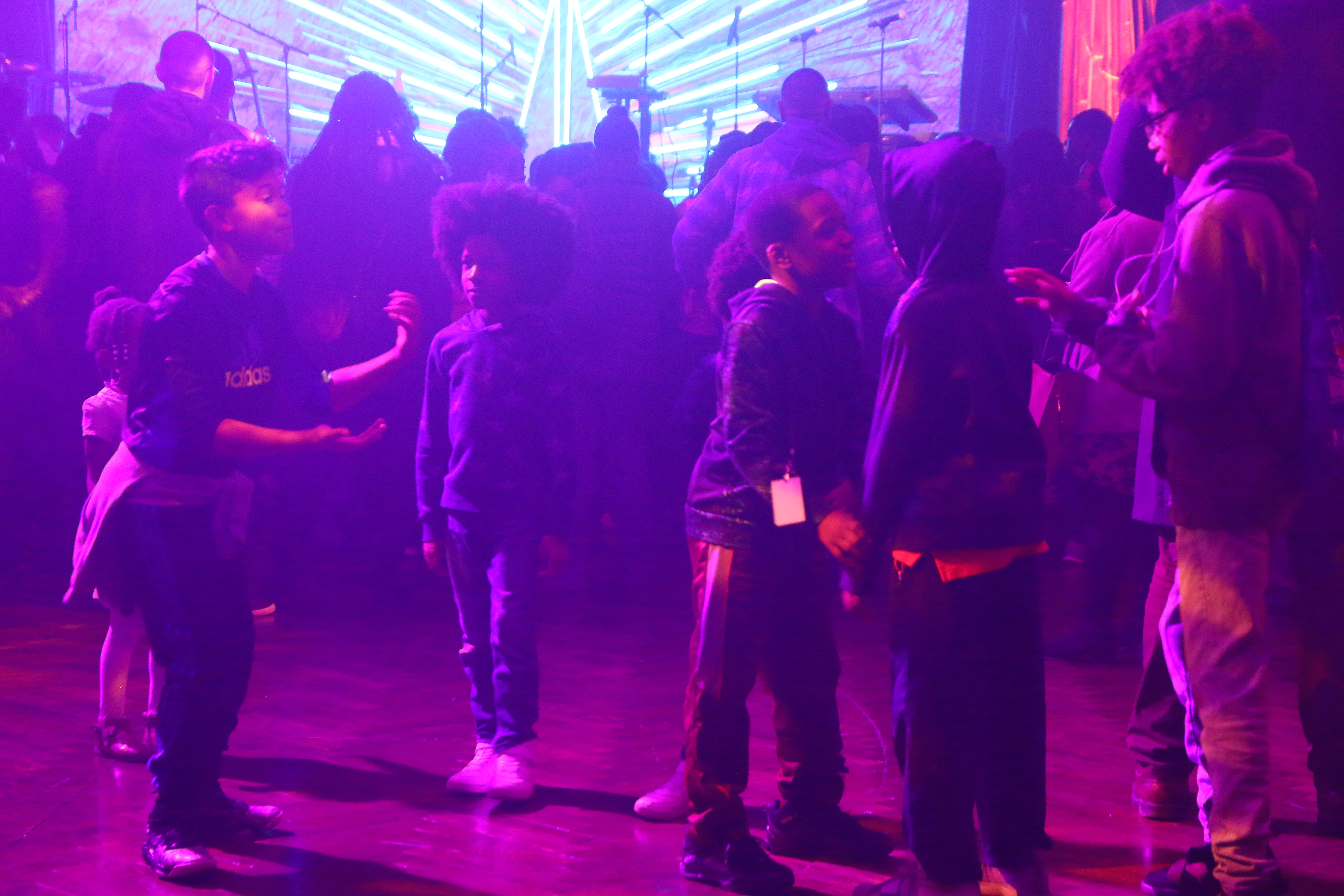 Some of the youngest concert attendees enjoyed The Make More Room Tour at Sony Hall in New York City. Photo Credit: Daryl Tillman Photography
Anthony Brown and Jason Nelson are on this show with you. How did that come about? Anthony Brown and Jason Nelson are two of my favorites. Their music is incredible. Jason Nelson has one of the best voices in Gospel music, and Anthony Brown is a genius to me when it comes to creativity all around. But just as brothers, those two have been incredible brothers to me.  I can't say enough about how much they encourage me and see the value in me – and I see the value in them.
Justin Bieber attended your Detroit show, are the two of you friends? My focus when it comes to Justin, I wanted to give him a safe space to go to. We all need times of refreshing, and I told him 'hey man, this could be refreshing for you.' We didn't announce him or anything until the show was long over. He just kind of stood in the wings and worshiped. I hope to be that for a lot of people because they do express that they like the music. They do express that it helped them. Outside of being a superstar, he is a human.
You're a Millennial. There is a lot of conversation right now around how to attract Millennials to the church. What are your thoughts about that? The closer the church can get to its biblical form, the better we will be. Even the question sounds like church is a business that is promoting to a certain audience…that's not what church should be. Church is a community of believers, a community of people that care about somebody's soul…If we can get back to that and stop worrying about just getting people in a building on Sunday service, we will be alright. The issues that we have as a generation, they are big soul issues, but it we're (the church) just worried about demographics and how do we 'reach them' like they are a cool marketing section, we are going to lose. That's why you have a random Justin Bieber or somebody like that who shows up at one of these shows – they want God. They don't want all of the pretense and all of the extra stuff that we have going on…I'm a church boy and some of it is stuff that I subscribe to, stuff I don't mind and I'm cool with it, but at the end of the day everybody is not necessarily down for that – but they need God. They need people and they need Godly people to lead them and show them the way.  I think that can be done in many ways, including Sunday Service.
What church do you attend? New Original Church of God in Christ. I've been there my whole life. I also regularly attend New Life in Chicago. I played the organ and drums growing up. I never sang. I hated singing.
Do you love singing now? I love reaching people and singing just allows me to reach people.
We know some of your influences from other genres, like India Arie and John Mayer. Do you listen to hip-hop? Are there any hip-hop influences? I grew up on hip-hop. The reason that I write the way that I do is because of hip-hop…because of Common and Talib Kweli and Mos Def and The Roots and artists like that. This generation of hip-hop, though? I'm kind of out of it.
What is your favorite scripture? II Peter 1: 3–11. This is basically saying that God gives us everything we need for a Godly life. It runs through all of the things that we can add to our lives, like brotherly love and patience, and at the end it says something that is amazing to me: "if you do all these things and focus on them in increasing measure – you won't fall." I was like, really? I have an option to not fall? That's dope. And so, that's always been one of my favorites.
McReynolds took a break from his touring schedule to attend the Stellar Gospel Music Awards in Las Vegas, where he performed his hit "Not Lucky, I'm Loved", which happens to close out his concert set.  Catch the Stellar Awards when it airs this Sunday on BET, and don't miss any chance you get to experience Jonathan McReynolds in his musical element.
2019 has already been good to Jonathan McReynolds, but he said there are some more "amazing things coming up this year." We can't wait to hear about them!