Kenny Lattimore is always in season. His voice: lush. His style: consistently exquisite. Indeed, anytime is the right time for a Kenny Lattimore song. It is fitting, therefore, that the Grammy Award-nominated singer, songwriter welcomes the most wonderful time of the year with a remarkable and festive Christmas album,
A Kenny Lattimore Christmas
.
With soulful covers of classic standards, arranged brilliantly by Aaron Lindsey, and six original songs that express Lattimore's personal reverence for the season, A Kenny Lattimore Christmas is a distinctive holiday album by a timeless artist.
This is much more than a marketing opportunity or legacy project. As a devoted Christian, Kenny Lattimore is passionate about the foundation of Christmas, and made sure to create an album where Christ is reflected in every track.
Read on, get to know another side of this "modern soul man," and celebrate the season along with the inimitable Kenny Lattimore:
What does Christmas mean to you?

"Love, family and intimacy. There is something about the intimacy of getting together in close quarters to enjoy time with family and friends that makes the season really special. Also, a pile up; a full house with as many people as possible! That closeness is what Christmas is about for me. Of course, being a Christian, I understand the significance on a spiritual and a holy level, so it is important to reflect and give praise and thanks. Besides spend time together, the only thing my family does is go to church and give praise. I wanted to make sure the Christmas album reflected that part of the season as well.
Why did you want to do a Christmas Album?

It honestly was not high on my list. What was high on my list was to do a praise and worship album at some point. That was in my brain to do because of the extension of who I am, and also because of the community that I came out of. Even before "Never Too Busy" came out (in 1996), I was on William Becton's album Broken. We were doing ministry and that album was phenomenal. So, I always thought, at some point, I would do a Gospel album…When I eventually decided to do a Christmas album, I felt like I would be able to incorporate a generous part of worship. I have always been very intentional about being identified as part of the body of Christ…I am a real believer in the bible and a real follower of Jesus Christ…I don't believe I am perfect, but I do believe in walking in excellence. This album gives me an opportunity to be identified with that in a way where I am not looked at as "changing" who I am, but as "extending" who I am. I want to sing life music. If there is something that would come out of my mouth, that I would talk about, I want to sing about it.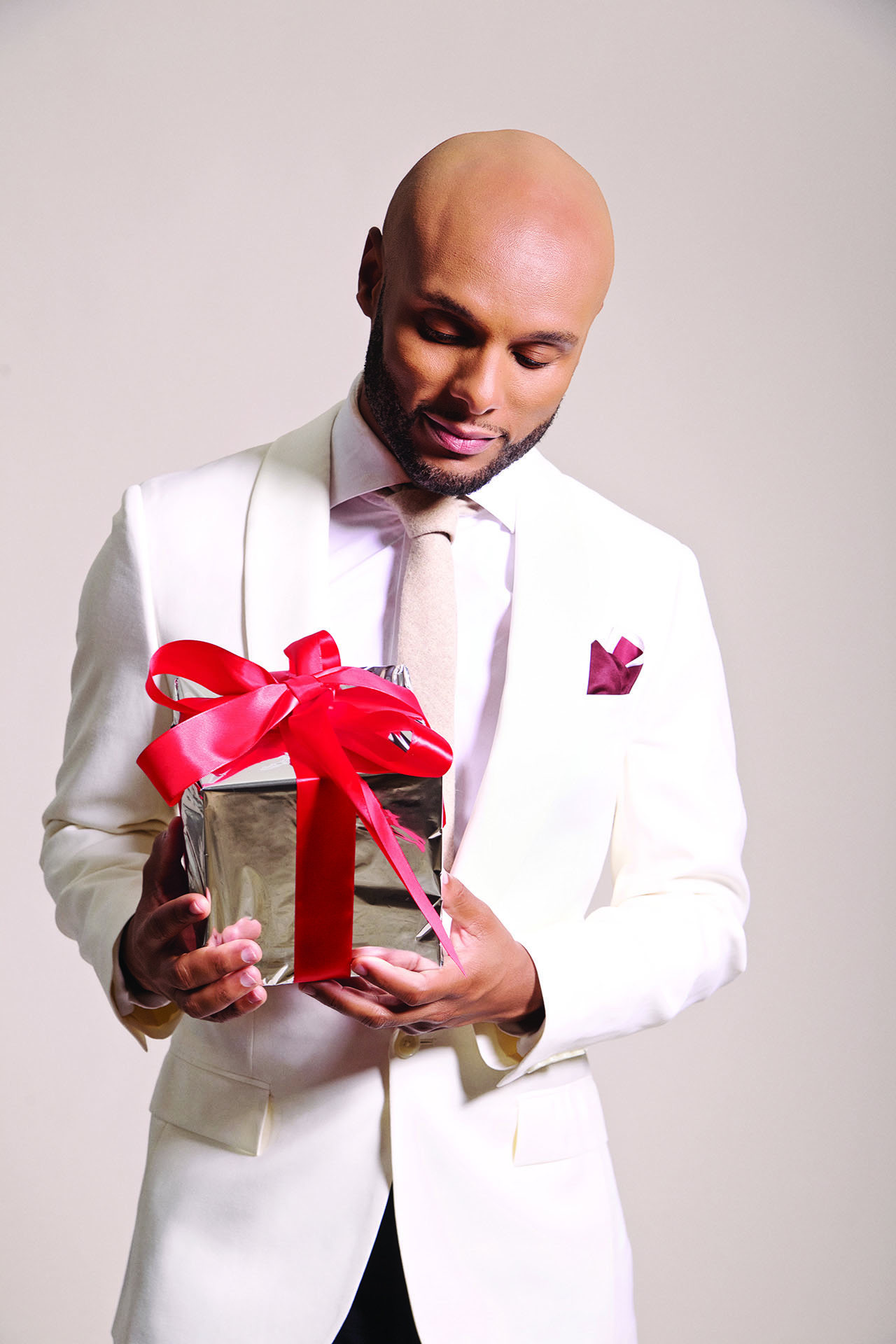 What was Your Inspiration Going into this Project?

I wanted to make Christmas music deeper than just the surface. I wanted to make the Gospel message accessible to the world – especially for my audience, which is broad and of different religious backgrounds. I wanted to make the Gospel message palatable so they could hear and understand the message, and know I am sincere. I also wanted to sing. This album probably has my best vocal work. Working with Aaron, I could go in and authentically just be me. I didn't have to try to be slick about anything. Mostly, though, I wanted to be sure that it was accessible to the world, and that it would be like butter on their ears. That was really the point.
Tell Us about Some of the Songs on the Album

"Oh Holy Night": This is my favorite Christmas song ever. I sang it like an aria because a lot of people don't get to hear me sing in a classical way. This was my favorite Christmas song growing up. I love the melody of the song, and it is so powerful and emotional – especially the 'fall on your knees' moment. I love Nat King Cole's version of "Oh Holy Night". His voice kind of epitomizes Christmas.
"Real Love This Christmas": This started out as an R&B concept, way before this album. I eventually thought 'wow, this would be dope as a Christmas song'. In order for this to authentically be a "Kenny Lattimore Christmas", there had to be something that sounded like straight up R&B! The song features a vintage Shalimar sample ("For the Lover in You"), and Howard Hewitt loves it. It was great to get his stamp of approval.
"Everybody Love Somebody": As people in the United States, we are not listening to one another. People are talking at one another, or they are hearing, and deciding to interpret intention instead of listening to what people are saying. I wanted to encourage everybody to love somebody…I was thinking about Black Lives Matter, and I was also thinking about the homeless. I wanted to make a statement that was all encompassing. Another component that I was thinking about was the people that we walk by every day and don't speak to…everyone has a story, and a lot of people have a difficult time during this season, but we don't take the time to even speak or smile at one another. I wanted the song to speak to all of that in a general way.
What Is Your Favorite Song on the Album?

I would say that "I Cry Holy" is my favorite song on the album… I love praise and worship, it permeates from me. I went into the studio with J. Scott, and the song really began to write itself. We were discussing what the song was going to be about. I thought about what it would be like to be in the world and know that Christ was just born, right then…what would go through my mind? It came together as a real and relevant personal moment.
What is Your Favorite Christmas Album of All Time?

Boyz II Men's Christmas album. The original material that Jimmy Jam / Terry Lewis did for Alexander O'Neal – that Christmas album is bomb for me! Mariah Carey's first holiday album, it is on repeat constantly. That may be the number one.
How do you keep a focus on Jesus during this season?

I remember beginning with symbolism. The tree represented life. The red tree skirt represented the Blood of Christ. I remember those kinds of things. I remember the angels on the tree, and listening to certain songs and understanding they were about the Lord. There was a very clear switch where we were in church and there was a new development of what the symbolism of the tree would be.
With my son, I really try to focus on what the story really is. That it wasn't just some fairytale that we are talking about. He has grown up more with the Gospel message as part of his lifestyle…so it is about me encouraging him I encourage him to look deeper and deeper so that as he becomes an adult he makes a decision to follow Christ.
What are some of the Christmas traditions you grew up with?

Gifts. A big Christmas dinner. Singing. We have done Christmas carols around the tree. A tradition that I have incorporated is thinking about others and giving back. There is nothing like blessing families and people outside of my home. I remember partnering one year with my church to feed families that were in need. We were given a phone number and a name. We picked them up, took them to the grocery store, and blessed them with food. My tradition will always be to search for an opportunity to give back…whether it is serving, feeding, picking someone up, etc. Another new tradition I have is a father/son trip that I do the week after Christmas. My son spends every Christmas with his mother (ex-wife Chante Moore), because she is big on Christmas traditions. So, right after Christmas, he and I go someplace and do something together.
A version of this interview appears in Rolling Out.com.
A Kenny Lattimore Christmas is available now wherever music is sold.