Like many magazine titans, Robert Hasan James does not have a background in publishing. What he has is creative vision, business acumen and the desire to fill a need in the marketplace.
In other words, he has hustle and heart.
In 2009, when the publishing industry was beginning to feel the pinch of digital media, James founded Root Magazine. His hustle quickly made it the go-to read for Gospel music enthusiasts, and garnered support from artists and industry executives. His heart – for the concept, for the Gospel music industry, for God – has kept the magazine going for 10 years. While other magazines are folding fast, James has carved a niche for himself that keeps Root going strong.
Tonight, James and his team are celebrating Root's 10 Year Anniversary with a star-studded concert at The Space in Las Vegas. Mary Mary is reuniting for a performance, and Hezekiah Walker, JJ Hairston, Leon Timbo and many others will grace the stage.
They are also marking this milestone with an historic and captivating 10 cover roll out.
James began his professional career in advertising at the coveted multicultural agency Uniworld in New York City. He worked his way up from the mailroom to business affairs, and along the way learned the ins and outs of advertising from both the creative and business side. "During that time, there were one or two Gospel magazines out. I subscribed to them and I read them, but they did not speak to me or my generation. They didn't appeal to someone in their late 20s who loves Gospel music but still loves hip hop and all of popular culture. At Uniworld, I was in an environment where I saw magazines all the time because we placed ads in them. I would read these publications and think 'I would really love to do this one day for Gospel.' Being in that creative advertising environment really sparked my interest in starting Root Magazine and helped me see the potential of what I could do."
Deciding what to call the magazine was an easy task because, after all, Gospel music is the root of all music. "As I was thinking about a name, 'root' immediately came to mind. I thought about the impact of Thomas Dorsey, and I also thought about negro spirituals and slave songs that were rooted in African gospel song traditions. Of course, this music has influenced singers and music of all genres," says James, who is a former member of Hezekiah Walker's Love Fellowship Choir, and sometimes still sings praise and worship at Love Fellowship Tabernacle Church in Bensalem, Pennsylvania. "The name 'root' stuck with me and I knew it was right for this magazine. Our tagline is Your Source to the Gospel Music Vibe and Beyond. This is a nod to the pop culture and hip hop influences of our magazine, by incorporating references to publications at the pinnacle of those genres."
When James tells me this, my own hip hop references come to mind and the only way I can describe the tagline's play on words is "simple ain't it, but quite clever."
This is actually what gives Root Magazine its edge. James keeps things simple, but always manages to add an unexpected twist that keeps readers attention and pushes the envelope in Gospel music media. The writing is crisp with features that dig beneath the surface of its subjects and the design is clean and modern.
"My goal is to make each issue a conversation piece. I want people to talk about it. I want people to be excited about it. I want people to post online with issues of the magazine. I want people to read it – not just see the cover, but read the issue. Sometimes people will inbox me about a story that they liked. I love when that happens. I like to hear that people have taken the time to read the magazine and that they enjoyed it or they learned something from it," says James.
Some of the publishing highlights for James include interviewing Jesse Jackson for the August/September 2011 issue, and a concept cover called "Leaders of the New School" showcasing the rising stars in Gospel music. "We put out a call for the cover shoot and almost 50 artists showed up," says James. "It was really cool." These artists included Anthony Brown, Tasha Cobbs, Jonathan McReynolds, Keyondra Lockett and LeCrae. Six covers were produced from this shoot.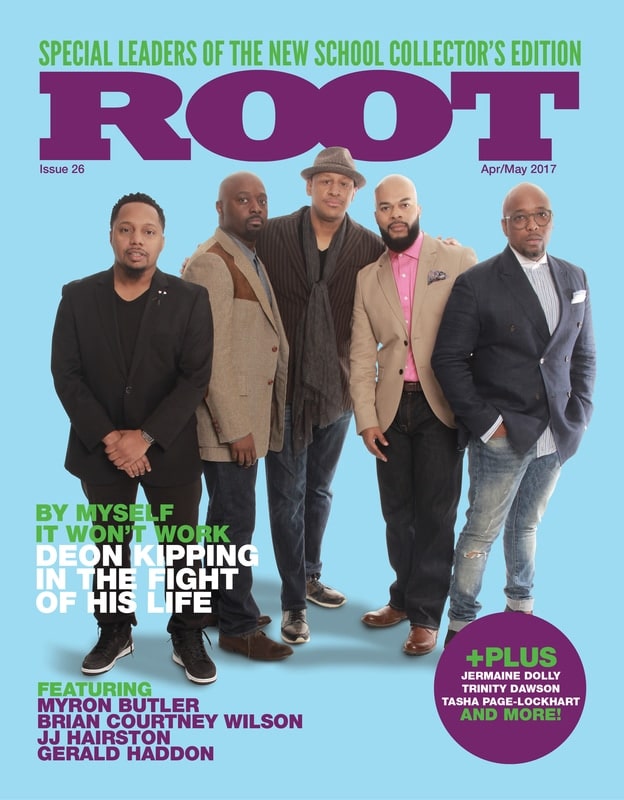 While James is proud of all he has accomplished with Root Magazine over the last decade, one moment that he is most proud of happened just a few years ago when, after years of taking online classes, he earned his bachelors degree in Business Marketing from the University of Phoenix. "I attended SUNY Albany straight out of high school, and I left because I just didn't know what I wanted to do. That's when I started working at Uniworld," says James. Years later, after I started the magazine, I decided that I really wanted to finish my degree. I took classes online, while publishing the magazine and working a night job to take care of my family. Because I was diligent, I was able to complete my degree. I am very proud of that. It set a good example for my teenage daughter that she can accomplish anything that she wants if she applies herself."
He may not have always known exactly what he wanted to do, but in the back of his mind James knew he would end up in some form of entertainment because he grew up around music: "My mom was a hip hop promoter in the Bronx. She promoted parties with a lot of the big deejays like Kid Capri and Ron G. Tracy Morgan actually got his start with my mom; he hosted a lot of her events. I kind of grew up in the business in a sense."
James says that he has had to overcome many challenges while building Root Magazine, especially finances and fear. Finances are always a challenge, so he finds ways to expand the brand into other areas such as radio (James can be heard on WIMG 1300 AM in Trenton, and syndicated on Reach Gospel Radio) and television. He recently wrapped production on a documentary called Rooted & Grounded: The Evolution of Gospel Music.
He mitigates any fears by referring to one of his favorite scriptures, Philippians 4:13 – "I can do all things through Christ who strengthens me" – and pressing on.