"…everybody can be great, because greatness is determined by service…You only need a heart full of grace and a soul generated by love." Dr. Martin Luther King, Jr.
A great church is one that serves not only its members, but its community. This can be easy when the community is suburban, or middle class, but it can prove a colossal test for the urban church in communities with significant, seemingly daunting, needs. For the urban church, service requires not only vision, but a true commitment to being the hands and feet of Jesus.
This commitment is typified by a progressive church in Jersey City, New Jersey, that is serving its community in ways previously unseen. Under the leadership of Pastor David Carment (affectionately called Pastor Dave) and his wife Taylor, CityReach Church Jersey City is a beacon of light and love in the second largest city in New Jersey – and the most culturally diverse city in America. From hosting events for neighborhood children to cleaning up neighborhood streets; from feeding the homeless to providing Christmas gifts to children visiting incarcerated parents, CityReach demonstrates the love of Christ in multi-faceted ways that extend far beyond its West Side Avenue location.
Since opening its doors in September of 2015, CityReach and its congregation of approximately 30 regular members have executed more than 15 high-impact community outreach events that served more than 2,000 individuals and families. This is not to mention the annual Community Clean Up where church volunteers pick up trash in empty lots and help instill a sense of residential pride in Jersey City. Pastor Dave refers to Micah 6:8 as the foundational scripture for the church's approach to service. "Our church looks to love our community, to reach those overlooked, to do justice in society, to love kindness and mercy, and to do all of that humbly," he says.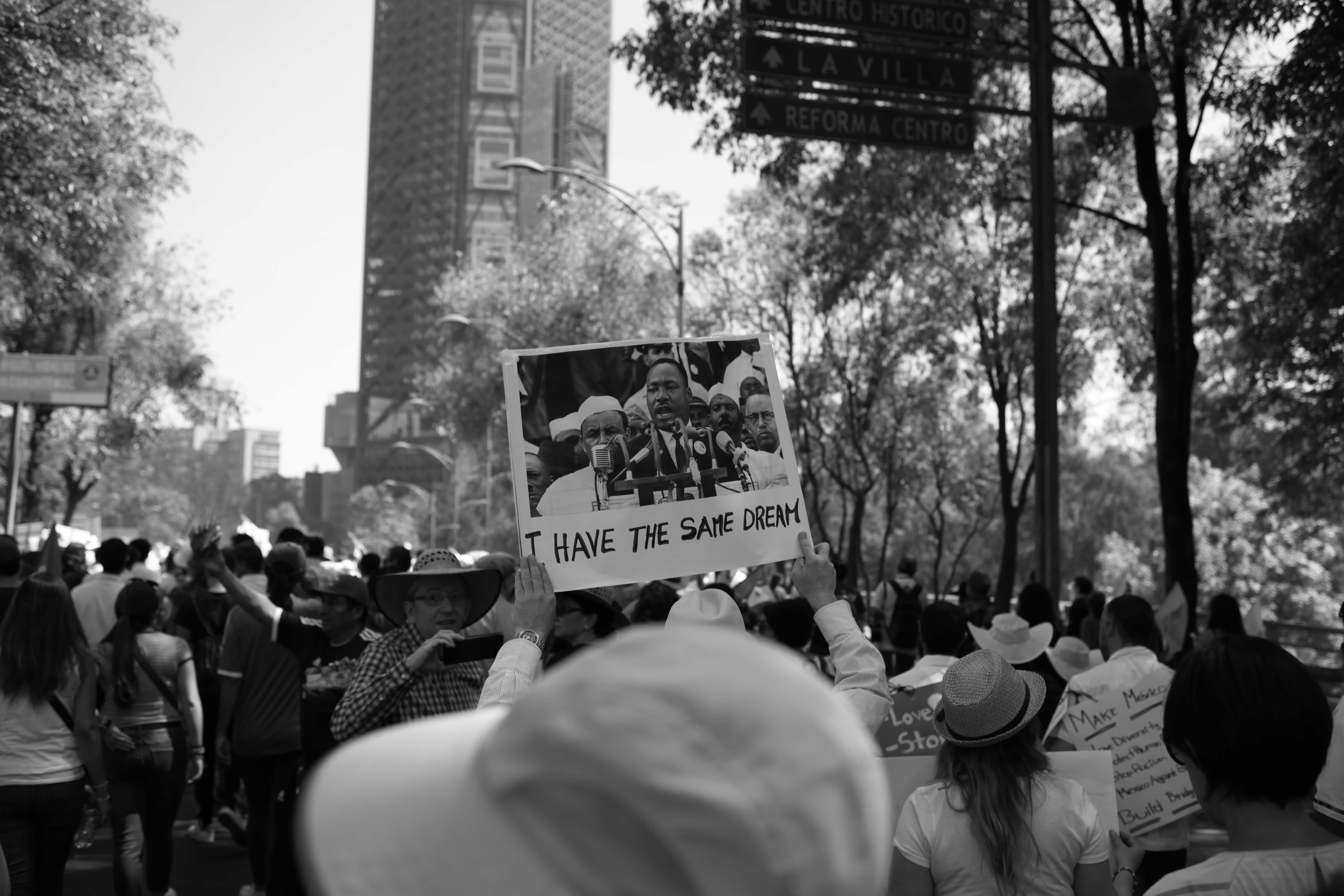 In commemoration of Martin Luther King, Jr. Day, we talked to Pastor David Carment about how CityReach Church Jersey City is affecting its community, and the importance of service in the church:
Was community service/outreach a part of your pastoral vision, or was it prompted by the needs that you saw in Jersey City?
When I felt the call to plant a church, I felt like the Lord gave me James 1:19-27. Verse 27 says that religion which is acceptable is to look after orphans and widows in their affliction. In the context of the verse, orphans and widows were the lowest socioeconomic position one could find themselves in. I knew right then that a major focus of the church would be on reaching those in the outskirts of society that are so easily overlooked. Therefore, we very intentionally made planning regular outreaches a priority.
What was the first outreach organized by CityReach?
Our first outreach happened the day before we officially opened the church. It was a community event called "Day of Hope." We had food for everyone, live music, raffle prizes and medical screenings. We had bounce houses, face painting, clowns and games for children, and we gave away 1,400 bags of groceries. We essentially celebrated the launch of our church with a giant block party, and it was a perfect way to introduce ourselves and what we are about to the community.
What kind of feedback have you received from the city about the work that you are doing?
The feedback can best be summed up by who has attended and/or partnered with us. We had Mayor Steven Fulop at our recent back to school bash. Assemblywoman Angela McKnight has partnered with us on multiple events. The City of Jersey City provided a stage for "Day of Hope" and the supplies for both of our clean-up days. The police department has donated close to 50 turkeys for our Thanksgiving outreach for the past two years. Also, Taylor and I received an award from the Mayor's office last year during National Night Out. I was also recently invited to speak with incoming police cadets about what we do in the community. So, we have received positive feedback, and we hope to continue to grow a favorable reputation in the city.
What kind of feedback have you gotten from people that CityReach has served?
Gratitude is the most common reaction by families and individuals that we serve. Our outreach this past Christmas (at Essex County Correctional Facility) was really cool because two other churches joined us simply to bless those in need. As we have continued down this journey, our organization and church partners continue to grow. I think the most encouraging, but also challenging, comment we have ever received came about a year ago from Assemblywoman Angela McKnight. While sitting in Audubon Park, she asked, "Why have I seen your church do more in the community in the first year of your existence, than all these churches. (She pointed to the multiple churches surrounding the park)?" I explained to her our philosophy on ministry and why it was so important for us to be active in our community. The challenge for me was not to judge ourselves against other churches and make ourselves feel better or become prideful, but to rally the churches of Jersey City to collaborate more. The truth is that the needs are too great and one church cannot possibly meet the needs of every person in a city.
How many churches or other organizations have you partnered with to execute outreach activities?
We have partnered with the City of Jersey City, Jersey City Police Officers of the South District, Carepoint Medical Center, Jersey City Medical Center of Greenville, Woodlawn Avenue Block Association, Assemblywoman Angela McKnight, multiple council members in Jersey City, Freeholder Bill O'Dea, West Side Babe Ruth League, University Academy Charter High School, City Life Church, Fountain of Salvation Church, Crossroad Community Church, Parent Council of P.S. 34, Friends of Audubon Park, Calvary Temple in Wayne, and Evangel Christian Church in Little Ferry. I am sure that there may be a few that have slipped my mind, but these are some of the partners we have had for our outreaches.
Sometimes your outreach activities meet a tangible need, while other times they mostly establish goodwill. What is the philosophy behind your approach to service? What presence do you seek to establish in Jersey City?
We believe that a New Testament church should have a multipronged approach to ministry. It should not only focus on the Sunday morning gathering or the mid-week Bible study, but should look for multiple different ways to connect with the community. We first believe in the power of proximity in living among the people you serve, and seeking the welfare of your neighbors despite their beliefs or views (Jeremiah 29:4-7). We believe in serving those that are overlooked in society, which comes from James 1:27.
For example, our Christmas Outreach was with detainees of Essex County Correctional Facility who are awaiting trial on an immigration case. These individuals had not committed a crime, but rather did not have the right paper work or immigration status and would not be with their families for the holiday. We were able to bless over 50 kids with presents after they visited their fathers on December 23rd. We also gave a Christmas card and $5 gift card to the parent or guardian with the child. City Life Church and Crossroad Community Church (church plants in Jersey City) partnered with us for this outreach.
Jesus himself was a Middle Eastern refugee immigrant who was born out of wedlock, lived in the ghetto, was raised in poverty, and later in life was wrongly accused of a crime, became a convicted felon and was the victim of an unjust judicial system that ended his life. So, if we are going to follow Matthew 25 and the equivalence of doing to one as doing it to Jesus himself, our church must meet the needs of the immigrant, the refugee, children in broken homes, those who reside in the ghetto, felons, the poor, and anyone else society views as second class or lesser.
Did you participate in church outreach or missions as a child or young adult? What was your first experience with serving and helping others?
I did participate in outreach and missions at the church I grew up in, but there didn't seem to be enough. It wasn't until my internship in college (I served at an inner-city church on the north side of Pittsburgh), that I saw what an active church in a community looked like. I realized that my home church was too focused on interior conflicts, the needs of the building, and judging others. This really helped to stir up a passion in me to start a church for the community and not just one that meets in it. We don't do outreaches to make ourselves feel good. Our church sees needs and responds by doing what Jesus would do.