In 1869, Philadelphia-based lawyer Russell Conwell took a trip to the middle east. Conwell's tour guide was from Baghdad, and he was the best kind of guide: the kind that not only showed visitors around the country, but shared stories that stay imprinted on the heart. During a ride along the Tigris River, Conwell heard a story that would become the North Star for his life's work.
This story was about a farmer, Al Hafed, who was content with his lot in life, and by all accounts "had it all." One day someone told Al Hafed that the world actually had a lot more to offer him. The cliff notes: "Al Hafed, you have a beautiful farm, but the earth produces many precious metals – including diamonds. Think of how many farms you could own if you had even a few diamonds!" Al Hafed was intrigued and sold his land to search for diamonds. He traveled across Persia, Palestine and into Europe, but found nothing. Eventually exhausting all of his money, Al Hafed died a broke and broken man.
Meanwhile, one morning the man who purchased Al Hafed's farm saw a small flash of light coming from a sandy, watery area of the land. On close inspection, he saw it was a diamond. Exploring further, he discovered the land was filled with many acres of diamonds. "It was one of the richest diamond finds in history," the guide said.
This story stuck with Russell Conwell, who was also a writer and speaker, and would later would become a Baptist minister. He incorporated it and its lesson of appreciating the value of where you are into more than 6,000 speeches. Conwell said that he made close to $1 million from speaking engagements where this story was at the center. He used the money to establish Temple University in Philadelphia, PA.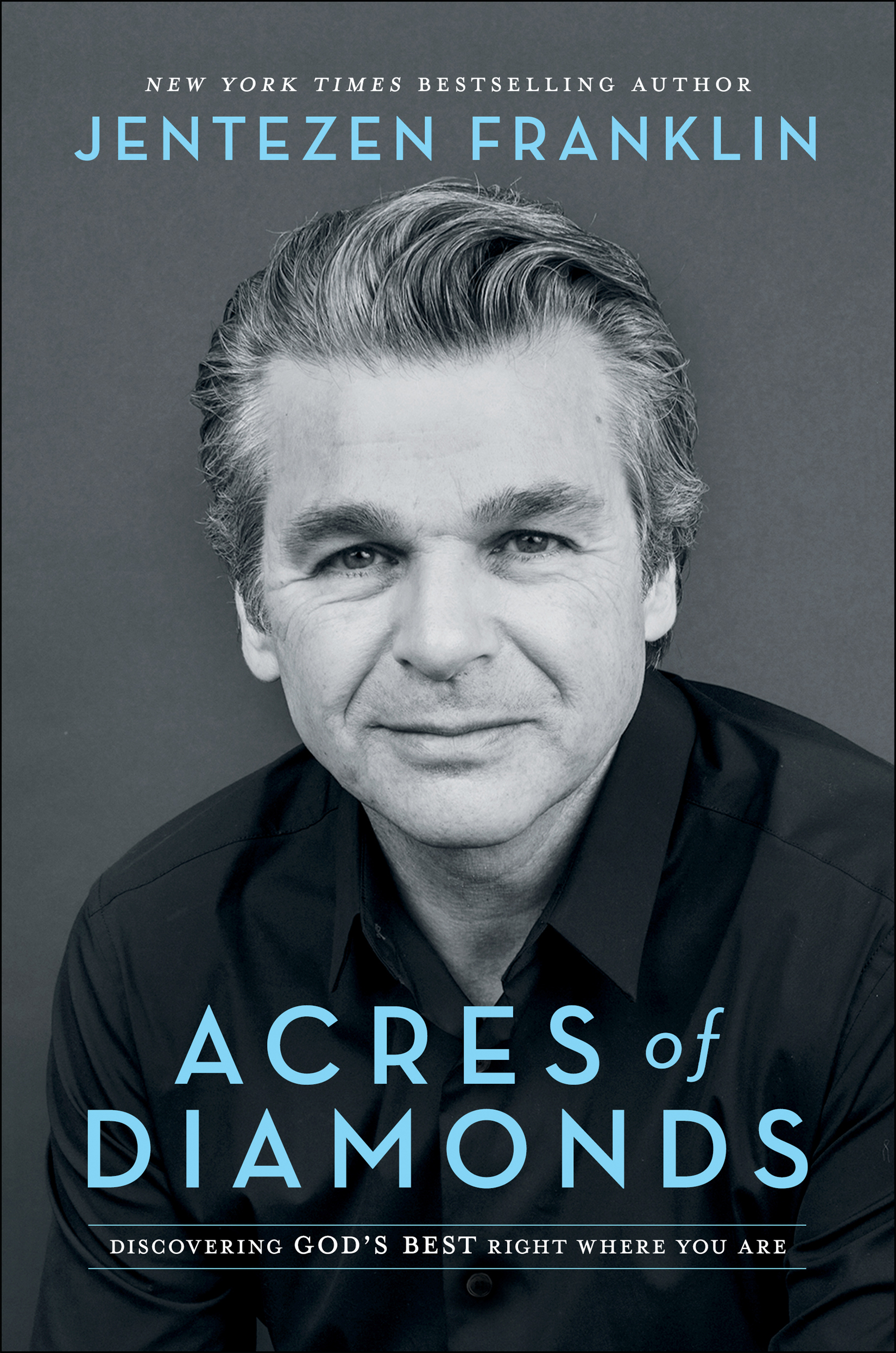 More than a century after Conwell first heard about the misfortune of Al Hafed, NY Times bestselling author, pastor and international speaker Jentezen Franklin continues its awakening theme, saying "You don't need a new garden; you just need to learn how to dig and cultivate what you already have." In his invigorating new book, Acres of Diamonds: Discovering God's Best Right Where You Are Franklin inspires readers to uncover the hidden potential right where they are, even in the midst of life's challenges and difficulties.
The book is receiving praise from faith leaders around the country: "When we go about our daily lives, we often forget to look at the blessings that God has placed in our midst. 'Acres of Diamonds' is an encouraging and inspiring reminder to pay attention to how God is preparing you in every season for His blessings and promises. Pastor Jentezen's insights will open your eyes to the joy and abundance that is all around you," says Samuel Rodriguez, president of the National Hispanic Christian Leadership Conference and Executive Producer of "Breakthrough" The Movie.
Through deep insights and personal discoveries, Franklin delivers an important message to resist the current culture of "change" and embrace the life that God has blessed you with in the here-and-now. In "Acres of Diamonds," he encourages readers to learn the art of contentment in order to make their plot of ground fruitful…to grow more, become more, and accomplish more. All, while finding joy in every opportunity as they uncover the hidden potential within their family, job, ministry and community.
Franklin offers fresh insight to combat the "grass is always greener on the other side" mentality by offering one simple four-letter word that he says will change your life forever: STAY.
"The key is learning to see, value and grow what you have, right where you are," says Franklin. "You may feel stretched, or inadequate, or exhausted, or unqualified. I want to encourage you to push past the giving-up places. It's easy to quit, but it takes faith to go through. When things get tough, don't sell out so cheaply. Don't believe the lies."
"Know this: inside of you are diamonds. In order for them to come out, it's going to take time," he adds. "It's going to take setbacks. It's going to take disappointments. It's going to take trials. It's going to take going through challenges. Just like diamonds are formed over time, with intense heat and extreme pressure, the diamonds that lie beneath the surface of your life are created in the same way."
Acres of Diamonds: Discovering God's Best Right Where You Are is available now from Chosen Books (Baker Publishing Group).